San Mateo, CA area dermatologist answers, what is Miradry and what to expect?
Sweating is a natural reaction when patients are exercising, warm, or stressed. However, some adults have a condition called hyperhidrosis, which causes them to experience excessive underarm sweating daily—regardless of their stress levels or activities. This condition can be extremely embarrassing for adult patients, especially in social situations. It can also be damaging to clothing, causing unwanted staining that can be difficult to wash out. Instead of continuing to suffer from hyperhidrosis, patients are welcome to speak to the team at Allura Skin and Laser Center in San Mateo, CA to learn what to expect with treatments such as Miradry offered by Dr. Bruce Maltz.
What is Miradry?
Miradry is a specialized treatment that is used for addressing the symptoms and problems associated with hyperhidrosis. This energy-based treatment provides a non-invasive yet permanent solution to underarm sweating. It is safe, effective, and cleared by the FDA for use in the treatment of hyperhidrosis.
This treatment uses a specialized handpiece that emits controlled energy to the sweat glands in the underarms. It seals off these sweat glands which keep them from expelling sweat. Many patients are worried that this will keep them from sweating at all and make it more difficult for the body to cool itself. However, a tiny percentage of the body's sweat glands are in the underarms, allowing sweat elsewhere to cool the body down when warm.
What can I expect from the Miradry procedure?
Patients who undergo the Miradry procedure are often relaxed and at ease, as the process begins. Local anesthetics are administered to the underarms before treatment to ensure comfort. Then, the specialized handpiece is used in the area without the need for incisions. In less than an hour with one of our physician's assistants or registered nurses, treatment is complete, and patients can return to their normal activities. Patients who exercise regularly should resume activity within a few days. Some patients who have Miradry treatment may experience swelling or soreness in the underarms, but this typically subsides within a few weeks.
What should I expect from my Miradry treatment?
Miradry is currently the only FDA-cleared treatment to permanently and safely eliminate sweat and odor glands from the underarms. Immediately, patients will notice a reduction in the underarm sweat and odor produced by their body. They will enjoy these results for a lifetime.
Do I need multiple treatments?
Most patients are delighted with the results achieved with just one treatment. However, others may want to maximize their results by having a second procedure performed. This can be discussed with the doctor during a follow-up visit.
Who is a proper candidate for Miradry?
The best candidates for Miradry treatment are patients who:
Have been diagnosed with axillary hyperhidrosis
Are bothered by the sweat and odor in the underarm area
Experience embarrassing sweat outbreaks regardless of temperature or activities
Continually ruin their clothing with sweat stains and lingering odors
Frequently apply antiperspirants and deodorants with little effect
Are considering alternatives to deodorants and antiperspirants
Are adults age 18 or older
Have any skin type or hair color
Where is Miradry treatment performed?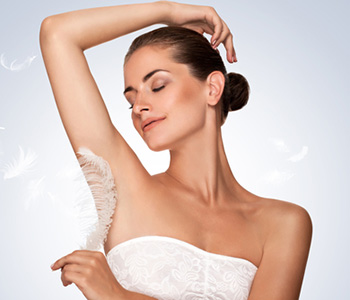 Miradry treatment is performed right in our practice without a referral to a hospital setting. Patients will consult a professional at Allura Skin and Laser Center, and then schedule their Miradry appointment at the same location. This makes it easier than ever for patients to have the treatment performed with a professional they already know and trust with their medical needs.
What is the cost of Miradry treatment?
The cost of treatment varies depending on the area treated and the number of procedures performed. However, many patients find that treatment is affordable, and can be attainable on a tight budget thanks to the many financing options available at Allura Skin and Laser Center.
Are you ready to learn more about Miradry?
If you are dealing with hyperhidrosis and are interested in finding out if Miradry treatment is right for you, we recommend you speak with the professionals at Allura Skin and Laser Center in San Mateo, CA. Patients in and around the community are welcome to visit with Dr. Bruce Maltz to discuss the treatment and determine candidacy. Call (650) 344-1121 to schedule your appointment and visit at 280 Baldwin Avenue. We are always accepting new and existing patients into our practice to discuss appropriate services for their specific and unique needs.
Back to Miradry Page