San Mateo, CA professional offers laser tattoo removal for any skin type and ethnicity
While many patients think that tattoos are permanent, this isn't always the case anymore! Thanks to continued advances in medical treatments and laser technology, patients of the San Mateo, CA area can now have their tattoos completely removed with laser tattoo removal for any skin type.
What types of tattoos can be removed?
Some types of tattoos respond quicker to laser tattoo removal than others. This includes:
Traumatic tattoos
Homemade tattoos using Indian ink
Tattoos using poor quality inks
Our team also offers black skin tattoo removal, thanks to the adjustments that can be made to our laser devices. We want all patients of all skin colors to have the opportunity to eliminate unwanted tattoos quickly and easily in our facility.
What is the cost of tattoo removal?
Many factors are involved when providing patients an accurate quote for the cost of treatment. This includes:
Location of the tattoo
Skin color
Size of the tattoo
Quality of pigments used
Colors used
How long the tattoo has been on the skin
Type of tattoo
The skin's response to laser therapies
How many treatment sessions will I need to remove my tattoo?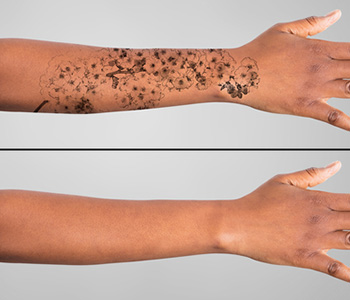 It is critical that patients understand that tattoo removal is not just a single appointment. Using the PicoSure laser device, a physician's assistant or registered nurse in our practice can slowly fade tattoos over time. Our laser professionals perform these treatments under the supervision of the doctors at our practice. The laser light breaks down the ink pigmentation to allow the skin to naturally absorb it. With each treatment session, patients will see their tattoos slowly fade away. The number of treatments needed will vary depending on the factors listed above, though our team can often give a reasonable estimate regarding the number of treatments needed during a consultation appointment.
Learn more about all skin type tattoo removal with our team
The physicians and associates at Allura Skin and Laser Centre are committed to offering state-of-the-art solutions for a wide range of skin concerns, including the removal of tattoos. If you want to find out if you are a viable candidate for this treatment, we strongly encourage you to book an appointment at our facility. Call (650) 344-1121 to request a visit with our team at 280 Baldwin Avenue in San Mateo, California.
Back to Laser Tattoo Removal Page