Dermatologist in San Mateo, CA practice describes how fillers can help you look younger
At Allura Skin and Laser Center, one of our favorite treatments for enhancing the appearance is dermal fillers. Dr. Bruce Maltz of San Mateo, CA, is a dermatologist who understands the benefits of using these cosmetic injectables to reduce the signs of aging and provide firmer, more youthful-looking skin. If you want to learn more about how dermal fillers can help you look younger, please read on for our frequently asked questions!
What is a dermal filler?
Dr. Bruce Maltz describes dermal fillers as gel substances that can be injected beneath the surface of the skin to smooth wrinkles and reduce the appearance of fine lines and folds throughout the face. They are used to contour areas such as the lips or adding volume in the cheekbones. Dermal fillers are an excellent alternative to more permanent and expensive treatments such as plastic surgery and provide results that can last several months. They are safe, biodegradable, and reversible if needed.
What are the different types of fillers?
Most of the fillers available on the market today are formulated with hyaluronic acid. However, there are a few that use poly-L-lactic acid to stimulate the formation of collagen and elastin, bringing volume into areas like the cheekbones that cannot be done sufficiently with hyaluronic acid fillers. Many of these can be used in conjunction to achieve the desired results.
Is Botox® a filler?
While patients think of Botox® for the treatment of fine lines and wrinkles, this injectable is not a filler. Instead, it is a neuromodulator. Formulated with botulinum toxin type A, this cosmetic injectable works a little differently. Instead of being injected directly into the fine lines and wrinkles, this medication is injected into the muscles of the face. These muscles cannot contract as much and therefore, result in the smoothing of the skin in the surrounding areas. Botox® is best for the treatment of dynamic wrinkles caused by furrowing the eyebrow or lifting the eyebrows. Our doctor uses this injectable on areas of the face, including:
Crows feet
Glabellar lines
Forehead folds
Frequently, Dr. Bruce Maltz may utilize Botox® injections with dermal fillers to create a full "liquid lift" with improvements all over the face.
Where can dermal fillers be used on the face?
Several areas can be treated with dermal fillers. They include:
Forehead wrinkles
The temples
Glabellar lines
Crows' feet
Cheeks
Nasolabial folds
Perioral wrinkles
The lips
Marionette lines
Chin/jowl area
What should I expect during my appointment?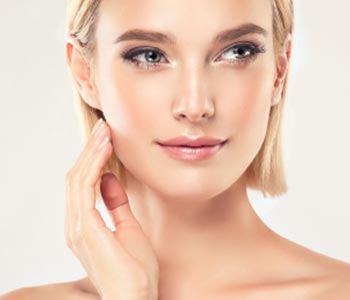 First, patients consult with their doctor to determine if they can benefit from the use of dermal fillers. Once they have decided to move forward with injections, the doctor cleanses the skin and applies topical anesthetics for patient comfort, if necessary. The dermatologist will then inject the dermal fillers into the areas of concern, ensuring precision administration for a natural and noticeable result. Once completed, patients can return to their day with no interruption. Many patients visit our practice during their weekday lunch hour to have their procedure performed before heading back into the office to complete the workday.
Are the injections painful?
In most cases, the injections are well-tolerated by our patients. However, patients with a lower pain tolerance may find that the injections can be uncomfortable. With the use of a topical anesthetic gel on the face before injections, we can make sure patients are comfortable during their treatment.
Are dermal fillers safe to use?
The FDA clears all the cosmetic injectables used in our practice for cosmetic use. With trained and experienced professionals administrating these treatments, patients can rest easy!
What are cosmetic injectables available at Allura Skin and Laser Center?
Restylane®
Restylane® Lyft
Belotero Balance®
Juvéderm®
Juvéderm Voluma® XC
Radiesse®
Sculptra®
How can I learn more about dermal fillers that are right for me?
The team of Allura Skin and Laser Center in San Mateo, CA, is here to help you choose treatments such as dermal fillers and other cosmetic injectables that are best for your specific desires. Call Dr. Bruce Maltz for a consultation at  (650) 344-1121. Allura Skin and Laser Center is conveniently located in the community at 280 Baldwin Avenue and is always accepting new patients!
Back to Fillers Page