Eczema Services in San Mateo
There are several types of eczema, each one presenting different symptoms. But it is generally a condition that causes skin inflammation, swelling, discoloration, dryness, and itchy skin. One of the most common types is Atopic Dermatitis. Which can appear anywhere on the body and varies from person to person. And with our eczema services, you can find relief. We are ready to help you learn more about the condition and provide the tools to better manage symptoms.
If you would like to learn more, please call (650) 727-6008 and speak with one of our associates. They can provide more information regarding our eczema services and can help you book an appointment. You can also send us a message by filling out the form found on this page, and we will contact you shortly.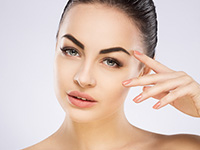 Professional Eczema Services
During the first consultation, family history is discussed, and we perform a skin examination. With this information, we can explore the best approach for the patient's condition. Those with Atopic Dermatitis may receive prescription topical creams and ointments. As well as non-inflammatory non-steroid creams and ointments. With infection, oral antibiotics are required. And to decrease the sensation of itching, oral antihistamines are often needed. This type of eczema also requires the routine moisturization of the dry skin.

San Mateo Dermatology Care
We commit our team to help our patients achieve and maintain healthy skin. We specialize in medical and cosmetic dermatology. Enabling us to provide a full array of dermatology services. Patients can benefit from services like skin cancer care, laser hair removal, Botox, alopecia, rash care, mole removal, and so much more.
When you are ready to learn more about our eczema services, please call (650) 727-6008. There, one of our team members in San Mateo can discuss your needs in more detail and can answer your questions. If you would prefer to send us a message, please fill out the form found on this page, and we will contact you as soon as possible.