Botox Cosmetic Services in San Mateo
As our skin ages and our faces continually make repetitive facial movements, fine lines, and wrinkles form. But with our Botox cosmetic services, you can turn back the hands of time and make your skin look younger and smoother. Botox is a neuromodulator that specifically designed to address dynamic wrinkles. It is a natural, purified protein generated by the Clostridium botulinum bacterium. This formula has been widely tested and is approved for cosmetic use by the FDA and it is suitable for both men and women.
For more information regarding our Botox cosmetic services, please call (650) 727-6008. There, one of our representatives in San Mateo can discuss your needs in more detail and can answer your questions. Or send us a message by filling out the form found on this page, and we will contact you as soon as possible.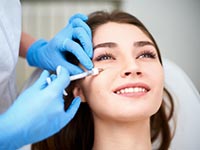 San Mateo Skin Care Solutions
Allura Skin & Laser Center is ready to provide complete skin care solutions. Our team has decades of combined experience providing expert care and positive results. So, while we are ready to deliver the best Botox cosmetic services, we can do so much more. Our patients also benefit from services like mole removal, acne treatments, laser hair removal, skin cancer care, tattoo removal, and so much more.

Convenient Botox Cosmetic Services
Botox treatments are quick and easy, taking only 15-20 minutes. They can be done within a lunch hour and patients can normally return to work or other normal activity. The procedure consists of a few shallow injections administered to precise points on the face. The Botox works by blocking signals to the muscles on the face. Preventing contractions and smoothing the skin over time. Providing patients with a smoother, younger-looking complexion.
If you would like to learn more, please call (650) 727-6008 and speak with one of our team members. They will be available to answer questions you may have regarding our Botox cosmetic services. To send us a message instead, please fill out the form found on this page and we will contact you shortly.