Chemical Peels in San Mateo
Take advantage of the chemical peels Allura Skin & Laser Center offers. Treatments are fast, taking only around 20 minutes. There is no notable pain, any need for anesthesia, and the recovery time needed is brief. Benefit from our extensive experience and commitment to provide the best results and patient experience possible. Contact us today!
To learn more, please call (650) 727-6008 and speak with one of our representatives in San Mateo. They can answer questions you may have regarding our chemical peels and can help you book an appointment. If you would prefer to send us a message, please fill out the form found on this page, and we will contact you as soon as possible.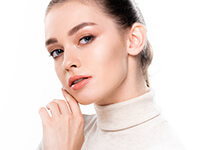 Comprehensive Dermatology Services
Our boar-certified team of dermatologists is ready to provide you with specialized medical skin care to remain healthy and comfortable. And in a field that is often changing, Allura Skin & Laser Center is committed to providing up-to-date care with contemporary training and technology. Benefit from our wide range of medical and cosmetic dermatology services. Which include eczema care, mole removal, Botox Cosmetic, psoriasis care, dermal fillers, skin cancer care, and more.

San Mateo Chemical Peels for Clearer Skin
We can perform chemical peels in a range of concentrations. This depends on the condition being treated and the needs of the patient. Treatments can help with relatively fine lines, acne scars, correcting sun-damage, pigmented spots, and improved skin texture. Every peel removes dead cells from the surface of the skin and promotes growth and renewal.
When you are ready to learn more about our chemical peels, please call (650) 727-6008. There, you can speak with one of our San Mateo associates who can discuss your needs in more detail and can answer your questions. You can also send us a message by filling out the form found on this page, and we will contact you shortly.