Get ready for next spring now with Laser Hair removal and CoolScultping
You know what they say about Spring bodies – they are made in the winter! Now is the perfect time to schedule a consultation with the Allura Skin & Laser Center. Laser hair removal and CoolSculpting are two ideal procedures that can help you tone up that midsection and get rid of unwanted hair just in time for the beautiful weather. If you are in the San Mateo, CA area, call us now at (650) 344-1121 to schedule a consultation.
Target that excess holiday fat
While the holidays are always an amazing time, the extra indulgences can all begin to add up. And while muffin tops and love handles sound cute, they are anything but. This is why now is the perfect time to eliminate that little bulge that appeared in the winter and firm it up right before Spring break. CoolScultping is an effective non-invasive way to target fat and tone up specific areas of the body.
How CoolSculpting works
CoolSculpting eliminates unwanted fat by freezing the fat cells that lay underneath the skin. Because fat cells freeze at higher temperatures than the rest of the tissue, it only targets the fat, not the healthy tissue. Once the cells are frozen, they will naturally be eliminated from the body.  The end result is a visible reduction of fat in the treatment area. You can finally have that flatter stomach, more toned arms, or thinner thighs that you've been dreaming about.
CoolSculpting is safe for targeting excess fat in many different problem areas such as:
Abdomen
Love Handles
Waist
Thighs
Upper Arms
Back
Chin / Upper Neck
The results from CoolSculpting are permanent as the fat cells are destroyed and eliminated from the body. However, that does not mean that patients cannot gain weight in the future. We recommend patients either continue with or start a fitness routine to maintain the results long term. It's important to note that CoolSculpting is not a weight loss tool. It is designed to eliminate small, targeted areas of fat. CoolSculpting can help you trim down, but it's not a magic solution to weight loss.
Eliminate unwanted hair
Now that we've addressed excess fat, it's time to talk about unwanted hair. As we head toward Spring, people become busy, planning spring breaks, summer vacations, and other outdoor activities. With all of that comes days spent in shorts and bathing suits. Wouldn't it be nice to get through the Spring and Summer without the hassle of constant daily grooming?
Laser hair removal can help you end the endless cycle of shaving, plucking, and waxing by permanently reducing unwanted hair.
How laser hair removal works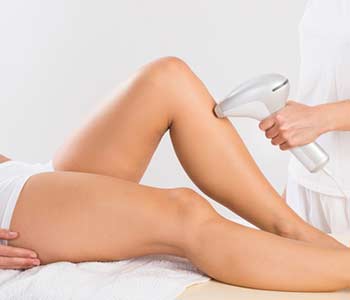 Using a concentrated light beam, laser hair removal targets the pigment (melanin) in the hair follicle, destroying its growth while leaving the skin unaffected. Because the laser is attracted to the melanin, it is especially effective on patients with thick, dark hair and light skin. Patients with light hair may not see the same effects from laser hair removal.
Patients will notice results from laser hair removal immediately. While there may be some visible stubble, this is just the remaining follicle being forced out of the skin. Because hairskin grows in three phases and laser hair removal only works on the active growth phase, patients will need multiple sessions in order to achieve full removal of unwanted hair.
The benefits of laser hair removal are:
Fast – The treatments itself are over quickly (large areas can be done in about 20 minutes) and only a few appointments are needed until you are permanently hair free.
Comfortable – Laser hair removal is virtually pain-free. Afterward, it may feel like a slight sunburn that can be alleviated with aloe vera gel. Overall laser hair removal is more comfortable than waxing, plucking, or shaving.
Permanent – Laser hair removal provides patients with up to 90% permanent reduction in hair as opposed to shaving, waxing, or plucking which must be done repeatedly.
Spring will be here before you know it… what are you waiting for? It's time to look and feel great in your skin. Call Allura Skin & Laser Center today to schedule your CoolSculpting or Laser Hair Removal session (650) 344-1121.
Back to Home Page