Melanoma Care in San Mateo
Benefit from our melanoma care services. Allura Skin & Laser Center can provide care and support to those diagnosed with melanoma. This type of skin cancer is aggressive and can become life-threatening. If detected in its early stages, melanoma can be completely curable. But if left unchecked, it can metastasize and spread beyond the skin to other parts of the body. Whatever the case may be, our team is ready to provide a thorough evaluation and discuss all available options.
To learn more, please call (650) 727-6008 and speak with one of our San Mateo representatives. They will be available to discuss our melanoma care in more detail and can help you book an appointment. If you would prefer to send us a message, please fill out the form found on this page, and we will contact you as soon as possible.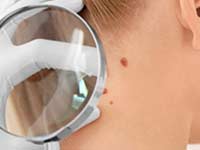 San Mateo Dermatology Care
While we feature melanoma care, we are ready to provide complete dermatology services. Our team specializes in medical and cosmetic dermatology. And with decades of combined experience in skin health, we can help ensure the best patient experience and results possible. Take advantage of services like Botox cosmetic, psoriasis care, fillers, acne treatment, eczema care, laser hair removal, tattoo removal, chemical peels, mole removal, and so much more.

Highly Qualified Melanoma Care in San Mateo
Our team hopes that you never receive a melanoma diagnosis and can work closely with you to avoid it. But if you ever develop skin cancer, we can help with leading treatment in the hands of our top physicians. They will provide support and will discuss every available treatment option. Including choosing the best approach for your needs.
When you are ready to learn more about our melanoma care, please call (650) 727-6008. There, one of our team members can answer questions you may have and can provide more details about our services. You can also send us a message by filling out the form found on this page, and we will contact you shortly.