Botox Treatment in San Mateo
A Botox treatment is a simple, safe, non-surgical solution that is designed to smooth out wrinkles caused by repeated expressions. The formula is derived from the Botulinum Toxin Type A. Which has been widely tested and is approved for cosmetic use by the FDA. The treatment is suitable for both men and women. Offering safe, effective, and natural-looking results.
When you are ready to learn more, please call (650) 727-6008 and speak with one of our associates. They will be available to discuss your needs in more detail and can answer your questions regarding our Botox treatment. You can also send us a message by filling out the form found on this page, and we will contact you as soon as possible.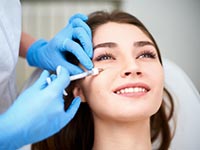 San Mateo Botox Treatment Services
Treatments consist of a few shallow injections with a fine needle into precise points on the face. These contain the purified protein, which then blocks nerve impulses to overactive muscles. Helping the skin on the face to relax and eliminating wrinkles. Botox is specifically designed to address dynamic wrinkles. These are wrinkles that form because of muscular activity in the face, like smiling, frowning, and squinting. The procedure is quick and convenient, taking only 15-20 minutes. And patients can return to work or do other activities immediately.

Dermatology Care in San Mateo
Choose Allura Skin & Laser Center for all your skincare needs. Our team offers complete dermatology care. We specialize in medical and cosmetic dermatology that is focused on providing our patients with the best experience possible. Our available services include scar revisions, dermal fillers, skin cancer care, mole removal, rosacea care, chemical peels, and more.
To learn more about our Botox treatment options, please call (650) 727-6008. There, one of our team members in San Mateo can answer questions you may have and can help you book an appointment. If you would prefer to send us a message, please fill out the form found on this page, and we will contact you shortly.