Botox Cosmetic Options in San Mateo
The skin on our face is some of the most active on our body. It provides us with communication through expressions, and it is the part of our body people see the most. As we age, the skin loses elasticity and becomes more fragile. And with frequent contractions, fine lines and wrinkles form between the eyebrows, on the forehead, and around the eyes. But people can combat these with our Botox Cosmetic options. Treatments can eliminate the appearance of wrinkles and provide a smoother, younger-looking complexion.
For more information, please call (650) 727-6008 and speak with one of our team members in San Mateo. They can provide more information regarding treatments and can help you schedule a visit. If you would prefer, you can also send us a message by filling out the form found on this page, and we will contact you as soon as possible.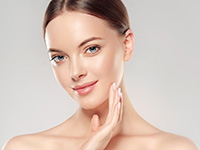 Experienced Botox Cosmetic Options
Our Botox Cosmetic options are convenient and simple. Treatments only take 15-20 minutes and patients can immediately return to work or other normal activities. The procedure consists of a few shallow injections into precise points on the face. Preventing muscles from contracting and creating wrinkles. Eventually, the skin smooths out and patients can enjoy results for a few months. We can maintain results with re-treatment.

Comprehensive Dermatology Care
Allura Skin & Laser Center is ready to help you achieve and maintain healthy skin. So, while you can benefit from our Botox Cosmetic options, you can also take advantage of our full array of skincare services. Our team specializes in medical and cosmetic dermatology. Enabling us to provide services like skin cancer care, chemical peels, eczema treatments, laser hair removal, acne treatments, psoriasis care, and more!
If you would like to learn more about our services, please call (650) 727-6008. There, a caring San Mateo representative will be available to answer your questions regarding our services and can discuss your needs in more detail. Or send us a message by filling out the form found on this page, and we will contact you shortly.