Dr. Yi (Michelle) Yang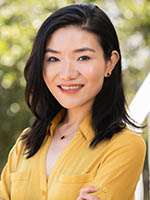 Dr. Yi (Michelle) Yang, MD, FAAD is a board-certified dermatologist specializing in medical, surgical, and cosmetic dermatology. While she offers a large spectrum of dermatologic care, she has particular interest in cosmetic dermatology, skin cancer screenings, and vulvar dermatology.
Dr. Yang has published in multiple publications, most notably the British Journal of Dermatology, Dermatologic Surgery. She was also an invited lecturer at the European Organization for Research and Treatment of Cancer Conference in London.
Dr. Yang earned her Medical Doctor degree at University of Texas Southwestern Medical Center (UTSW). She is also an active member of Alpha Omega Alpha Honor Medical Society. She completed dermatology residency at UT Southwestern Medical Center after her preliminary training in internal medicine at UT Health Science Center at Houston (affiliated with MD Anderson Cancer Center).
She earned bachelor's and master's degrees in business at The University of Texas at Austin, McCombs School of Business. After several successful internships at a fortune 500 company and world-renowned professional services organizations such as PricewaterhouseCoopers Transaction Services, she decided to shift her focus to pursue her true passion for medicine.
Dr. Yang had channeled her decade-long passion for skin care into her pursuit of Dermatology. The variety in dermatology piques her interest. And, knowing that helping patients with their skin can significantly improve quality of life is very rewarding for Dr. Yang.
Memberships:
• American Academy of Dermatology
• American Society for Dermatologic Surgery
• American Society for Laser Medicine and Surgery
• Women's Dermatology Society
• Integrative Dermatology Society
• Skin of Color Society
• Alpha Omega Alpha Honor Medical Society
Away from the clinic, Dr. Yang enjoys spending time with her two children, traveling, and practicing yoga and Pilates.